1. Mel Blanc Phone Call
When Bob was 14 he phoned Mel Blanc at his home to get advice on how to do voices for cartoons. Bob secretly taped the conversation by putting the receiver from one phone on the mic of his portable Panasonic tape recorder while talking to Mel on the extension from another room. The sound quality wasn't great, but he was able to get the conversation on tape for posterity. After listening to this tape over and over, the tape broke, along with Bob's heart!! So much for preserving history. Cut to March, 2003. Bob's mother calls up asking if he knew anything about some old tape she found in a drawer that said "phone conversation with Mel Blanc." Bob rushed the broken tape to his buddy, producer Dave Berges, who was able to splice the tape back together and digitally enhance the conversation. Sadly much of the conversation was destroyed when the tape broke, but what you hear is about 75% of it.



2. Bob "attempts" Porky Pig
Bob had wanted to be the voice of Porky Pig since he was a kid. Chatting with his idol Mel Blanc inspired him to eh-puh-peh-eh-practice a lil Porky. Here's an early attempt at the Pig. Thank God no one said, "Don't quit the day job!!"



3. First Day in a Voice-over Workshop
The title says it all. Here is 14 year old Bob's first time at the mic at his first voice-over workshop, taught by Louise Chamis. To quote from above, "Don't quit your day job!!!!"



4. Bob sends Demo to Kasey Kasem
When he was 18, a good friend of the family had Casey Kasem send Bob an autograph picture for his high school graduation. Bob sent Casey a thank you note, stating he wanted to do voices for cartoons and included his phone number. To his shock Casey phoned Bob and offered his assistance. Casey requested Bob make a home made demo of as many voices as he could. Bob sent Casey a tape of 85 voices which Casey, in turn, gave to Don Pitts, a voice-over agent and one of the nicest guys in the biz. Don took Bob on as a client, and at 18 he was set up with his first agent. Here is a small sample of that homemade demo tape.



5. Daws Butler
Forteen year old Bob attended an ASIFA sponsored event at the Promenade Mall in Woodland Hills, where he met Daws Butler for the first time. Bob was rarely without a tape recorder, and Daws was nice enough to perform a medley of his famous characters. Listen in as one of the greats shows his amazing vocal range, plus gives some good acting advice. Bob would eventually study with Daws for years.



6. Radio Psychic Reading
One night in 1985 Bob couldn't sleep. Just for fun he called a radio talk show who had as a guest a physic. Bob asked, "Will I be successful??" The response was pretty freaky!! The quality of the recording is lousy, but you'll get the gist of it. Incidentally, it was in 1987 Bob quit his day job as a Universal Studios Tour Guide to work full time as an actor. Although, he has NO idea who Linda is!!



7. Bullwinkle Show Rehearsal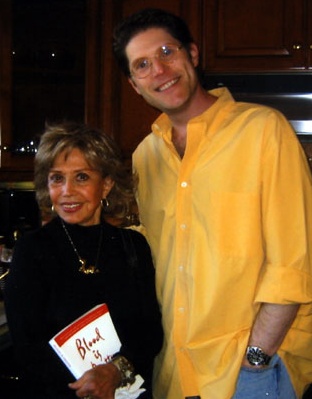 Bob met the amazing June Foray for the first time at the ASIFA event mentioned above. He found a tiny lady on her hands and knees frantically searching for something and offered his assistance. Joining on all fours next to her he asked, "What are we looking for?" "Oh, I lost my favorite gold pin," the little lady said. "It reads Oh Shit!" Bob introduced himself, to which she replied, "Nice to meet you, Bob. I'm June Foray." He thought, "OH MY GOD!! I'm ass to ass with Rocky the Flying Squirrel!" Sadly they never found the pin. But Bob and June stayed good friends and have worked together often. ASIFA arranged for Daws, June, and Bill Scott to perform a live reading of the classic Bullwinkle Show, along with a Fractured Fairy Tale. On this clip they rehearse the Bullwinke show. Notice how the clip dates itself. There's a portion of the original Bullwinkle script with a reference to the TV show The Lone Ranger. They decided to use a more contemporary show title for the live reading, so they picked Dallas. Hey, it was the late 70s!!!!!



8. Fractured Fairy Tales
Here they perform a classic Fractured Fairy Tale.



9. The Adventures of Rocky & Bullwinkle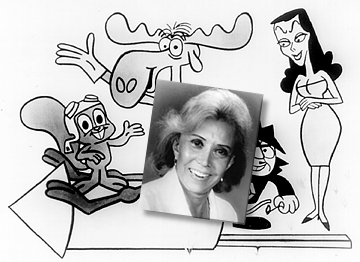 And here they perform an episode of Rocky and Bullwinkle.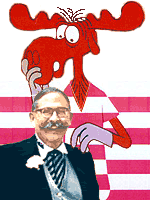 10. Jay Ward
This is an audio recording from a television piece on Jay ward, the creator of Rocky and Bullwinkle. Many of the players from the ASIFA event can be heard here, as well as William Conrad who narrated the old Bullwinkle shows.

11. Mel Blanc on John Davidson
Here is an audio recording of Mel Blanc on The John Davidson Show. These were pre-VCR days, but Bob always had a tape recorder in front of the TV!!



12. That's My Line
In the early 80s, Bob Barker had a short lived prime-time series called "That's My Line," which showcased people with interesting occupations. Mel Blanc made an appearance on the show, along with his son Noel. This was the first time Bob saw Mel promote that Noel will take over his voices when he eh-ruh-reh-eh-retires. To this day people still question Bob, "Doesn't Mel Blanc's son do these voices now!". For those of you still wondering, the answer is no. There are a handful of actors who share voicing the Looney Tunes, but Noel really isn't one of them. Noel did indeed try, but blood is thicker than vocal cords. Bob's first WB gig was to replace Noel on Tiny Toons.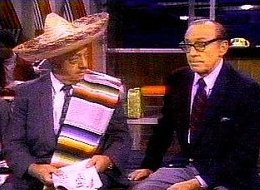 13. Jack Benny Show
Here is the classic "Si, Sue, Sy" routine with Mel Blanc and Jack Benny.












14. Luke Skywalker Outtake
Bob, as Luke, attempts to say the line "look at the size of that thing" without breaking up.



15. Peter Anthony Holder interviews Bob
Here's a radio interview Bob did on 9/16/04 for Peter Anthony Holder on CJAD 800 AM Montreal, Canada.